With the current trend of all white rooms, I have been giving a lot of thought to White as a color.
I am even thinking about painting my new bedroom white!
My blogging friend Dru decorates so beautifully with white and small pops of color. I really love the look, but can't imagine it in everyday life. But White is so crisp and clean and goes with pink perfectly! My sister refuses to wear white, she hates the stress of thinking she is going to stain it. And the other sister considers it a non color, only suitable for accents.
Besides contemplating white for my bedroom, I also have been thinking about it in the bathroom. I love the clean look of all that sparkly white! For some people I know that is a bit too much, but I like to SEE that my bathroom is clean!
My current bathroom, before I re-did it never felt clean. It probably had something to do with the carpet on the floor. Yick!
My new bathroom still looks like this. Not much progress lately. Though we did get the cement board laid. But that is not stopping me! I am busily dreaming what it will look like when finished. Want a peek at my inspiration?
This is what I am envisioning my new bath to look like, minus the wall tile. I have a rounded pedestal sink picked out and a wonderful old wood medicine cabinet bought from craig's list. I will even probably paint the walls a light blue/gray. The floors will be slightly different, similar white hexagon tile but with black tiles in the centers.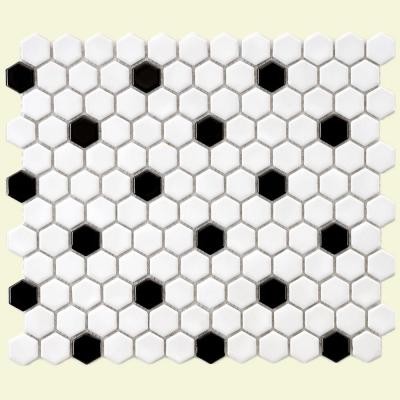 I already had bought my tiles, then I went to a discount home supply store...... and fell in love with these little hexagon tiles!
In person they are so much cuter! I can't wait to see how they look. In the mean time, the first tiles are going back to the store......
So what is White to you?
A fresh color?...... Something to avoid?............Only for accents?
This post is part of the Country Whites Weekend!